Terrain Bender
Terrain Bender applies progressive bending to digital terrain models for 3D cartography. It offers interactive tools to add a bent base to a digital terrain model.
Terrain Bender Manual >>

About Progressive Bending
3D maps with progressive bending show the landscape using a varying viewing angle from steep in the foreground to flat in the background. The result is similar to the way in which passengers in a plane perceive the landscape, first looking straight downwards and then raising their gaze towards the horizon.
With progressive bending, 3D maps gain display depth, and landscape elements in the foreground are less obstructed from view than on 3D maps using a central perspective.
More >>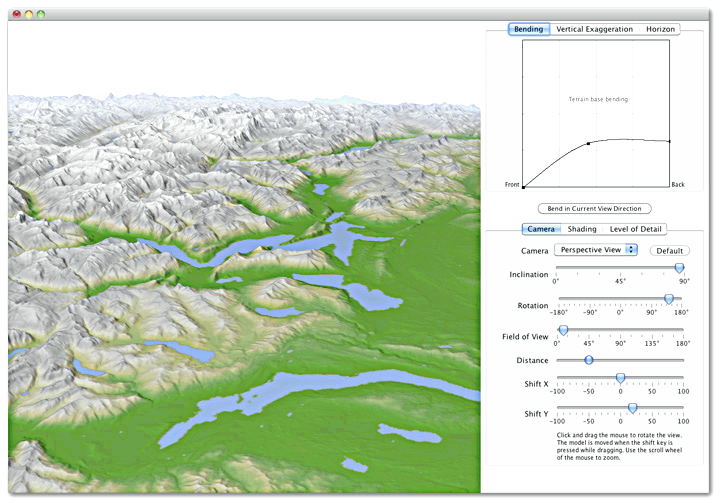 Terrain Bender Features
Terrain Bender offers specialized tools for bending terrain models.
progressive bending
curved horizon bending
vertical exaggeration adjustable in foreground and background
preview with perspective camera, parallel camera, and 360° cylindrical panoramas
illumination settings
hypsometric tinting, haze simulation, and texturing
import and export of terrain models in ESRI ASCII grid file format
Terrain Bender features interactive previews of 3D maps, but final rendering is best done with ray-tracing software.
Terrain Bender License
Terrain Bender is free open source software by Helen Jenny and
Bernhard Jenny
, Monash University, Melbourne. Terrain Bender was developed at the Institute of Cartography and Geoinformation, ETH Zurich. © H. & B. Jenny, 2009-2011.
You can redistribute it and/or modify it under the terms of the GNU General Public License version 2 as published by the Free Software Foundation.
Java
Source Code
(
Netbeans
project,
Netbeans OpenGL Pack
is required to compile)